McDonalds Monopoly.
Everything you need to know about the McDonalds Monopoly promotion.
What is the McDonalds Monopoly Promotion?
McDonalds Monopoly is a promotional game, which is run by McDonalds and based on the classic Monopoly board game. Essentially, customers are given the opportunity to win prizes by purchasing food at McDonalds and collecting the relevant game pieces, some of which are designed to correspond with property spaces on a Monopoly board.
There are three main types of game pieces or tokens that can be collected. Instant win tokens provide an instant prize from the restaurant, such as an item from the menu, while online tokens provide codes that can be entered on websites, in order to receive discounts or be entered into a prize draw.
However, property game pieces provide the largest prizes. These are the game pieces that correspond with spaces on a Monopoly board and they need to be collected alongside all other properties of the same colour to redeem the prizes.
In the UK, you must be at least 16 years old to participate in the Monopoly promotion.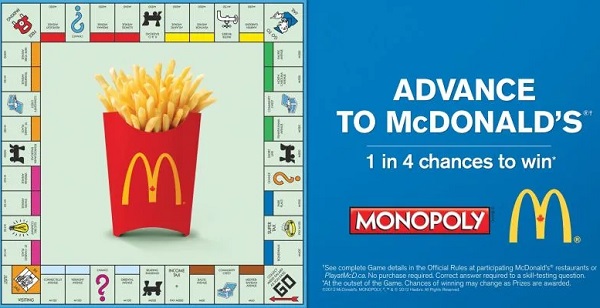 What Are the McDonalds Monopoly Prizes?
The exact list of prizes connected to the Monopoly promotion change from year-to-year and the prizes for the 2020 edition have not yet been announced. In previous years, the instant win prizes included things like a free cheeseburger or a free drink, to be redeemed within the restaurant during the time of the promotion.
The largest prize in 2019 UK version of McDonalds Monopoly was a £100,000 cash prize for collecting both dark blue properties (Mayfair and Park Lane). Similar cash prizes are on offer in other countries too. Meanwhile, collecting all three green properties allowed participants to win a Mini Cooper, and other prizes included holidays and a PS4 console.
When is the McDonalds Monopoly 2020 Promotion Due to Begin?
The McDonalds Monopoly 2020 promotion was originally due to begin in the UK on 25th March and it would then have continued for 41 days, meaning it would have ended in early May. However, the fast food chain has since announced that the promotion has been delayed this year as a result of the COVID-19 pandemic.
It is still anticipated that McDonalds Monopoly will return in 2020, but the expectation is that the start date will now be significantly later in the year, once some of the tougher restrictions surrounding Coronavirus have been relaxed.
McDonalds Monopoly is expected to begin again in the UK, Germany, Australia and Canada. There are no plans for promotion in the United States. If your country is not running the promotion, you can still win cash prizes and free coupons by filling out the McDvoice customer satisfaction survey.
What Are the Chances of Winning a McDonalds Monopoly Prize?
According to McDonalds, the chances of winning an instant win prize from the Monopoly promotion are roughly one-in-five, meaning that 20 percent of all tickets will offer you some kind of prize. The most common instant win prize is a medium fries and the odds of winning this particular prize are somewhere between one-in-25 and one-in-30.
However, the chances of winning one of the larger prizes are significantly lower than this and those chances decrease in line with the value of the prize. In the UK, in recent years, there have only been four £100,000 cash prizes to be won each year, but there have been around 500 PS4 consoles and 400 mobile phones with a free one-year contract.
In Canada, in recent years, the top prize has been a $50,000 cash giveaway, and the chances of winning that particular prize are said to amount to somewhere in the region of one-in-9,000,000.
How Can I Improve My Chances of Winning a Prize?
As a general rule, the main way to improve your chances of winning a prize from the McDonalds Monopoly promotion is simply to buy more items from the menu. It can pay-off to be strategic about the specific menu items you order, based on whether they are part of the promotion and the amount of game pieces they offer.
There has also been some suggestion that, in terms of the online prizes, you may be able to improve your chances slightly by entering codes away from peak times. This means that avoiding the main meal times and entering codes either early in the morning or late at night could potentially boost your chances of winning certain prizes.
Which Menu Items Provide Monopoly Tokens or Game Pieces?
Not all items on the McDonalds menu will actually provide game pieces for the Monopoly promotion, but many of the most popular meals do. For instance, the Big Tasty burger and the Chicken Legend both come with three game pieces, as will any item from the Signature Collection and any medium or large soft drink.
Many of the smaller menu items, including medium or large fries and McFlurry ice creams come with two game pieces. With this in mind, the vast majority of meals ordered from McDonalds will provide at least some game tokens.
Which Rare McDonalds Monopoly Tokens Should I Look Out For?
The most rare and valuable Monopoly tokens to look out for are the dark blue pieces. These have different names in different parts of the world. In the UK, for example, the dark blue game pieces are called Mayfair and Park Lane, but in Canada, they go by the names Boardwalk and Park Place. Owning both will earn you the biggest cash prize.
Other rare pieces include the green, yellow and red pieces, and collecting the whole set of any of these colours will also land you a significant prize, which could be a holiday, a games console, a car or a phone.
McDonalds Monopoly Codes.
The McDonalds Monopoly Code on tokens does not mean muchas McDonalds has allocated prizes to certain seconds every day.
The McDonalds Monopoly game runs for 41 days and players get prizes by collecting winning token combinations, and by and entering unique McDonalds Monopoly codes into the online game.
Each McDonalds Monopoly token comes with a unique McDonalds Monopoly code that you enter on McDonald's website to try to win cash prizes of up to £100, vouchers as well as NOW TV passes.
But it it is not the McDonalds Monopoly code that determines if you win, but rather what time you enter the McDonalds competition. It is unknown when these "winning moments" are or indeed how long they last. So, you are in with a chance no matter which McDonalds Monpoly code you use. Winning is simply down to timing.