Current McDonalds Deals and Coupons.
McDonalds is recognised as the world's largest fast-food chain and one of the ways it generates customer loyalty and repeat business is through offering special deals and coupons. These McDonalds offers will typically provide a discount on food, or provide free extras on top of your order, so it is well worth evaluating the range of options.
The various deals can be broken down into coupons or vouchers, which must be obtained and used in accordance with the terms and conditions, along with menu specials, which are actually built into the standard McDonalds menu. Please note that the availability of some McDonalds deals will depend on individual franchises opting in.
McDonalds Coupons or Vouchers.
The first way to benefit from McDonalds deals involves using special coupons. Many of these coupons are available online and can be accessed from within the McDonalds app, or from: https://www.mcdonalds.com/us/en-us/deals.html
Some of the most common online coupons include the following:
$1 off Large Fries via Mobile App
Free Medium Fries for New App Users
Free Medium Fries with a $1 Minimum Purchase
20 Chicken McNuggets for $4.99
Coupons found within the McDonalds app can be redeemed by showing the coupon on your phone when you make a purchase, or by applying the coupon to your order within the app and then paying for the food from your device. It should be noted that some of these coupons can only be redeemed a set number of times. A good example of this is the popular $1 off Large Fries deal, which you are only able to use once per week.
In addition, McDonalds also offers printable coupons, which can be redeemed without requiring you to download the mobile app. These McDonalds coupons are usually sent out to customers via email in exchange for carrying out certain actions, such as completing the customer satisfaction survey advertised on store receipts. Printable coupons of this kind are also sometimes used by McDonalds as a goodwill gesture, or to help resolve customer complaints.
Furthermore, McDonalds has also been known to send out physical vouchers in the mail from time to time, or include vouchers within newspapers and similar publications. Physical vouchers of this kind do not need to be printed out and do not require the mobile app either. They tend to be targeted regionally, so keep an eye out for vouchers near you.
McDonalds Printable Coupons.
Printable McDOnalds coupons are popular as you don't need a coupon code. McDonald's does not always share their printabe coupons online, and for access to printable coupons, you may have to sign up for an email list, or fill out thier survey.
The MCDVoice Customer Satisfaction Survey – If you have visited one of McDonald's restaurant, keep your receipt. You can access an exclusive coupon, if your receipt has a McDonalds survey code on it. Simply visit the survey link, type in the survey code, and begin the survey, whick takes 2 to 3 minutes.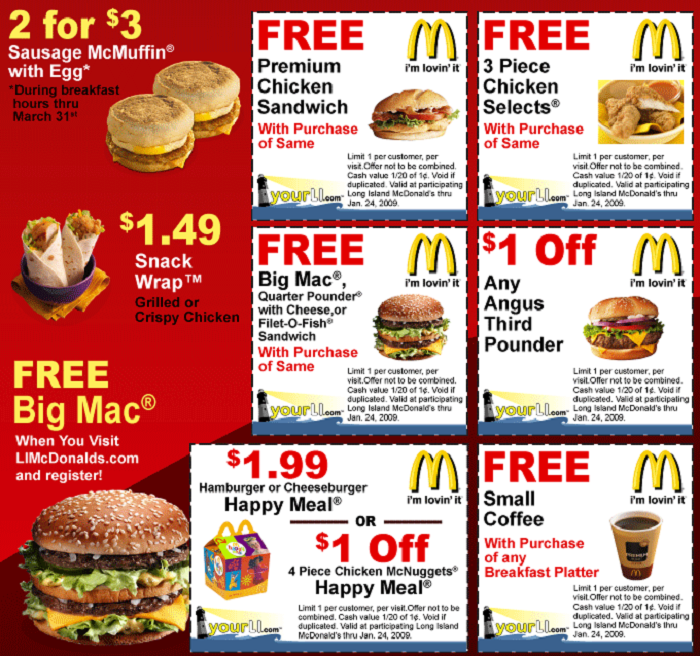 Applying Coupons in the McDonalds App.
To capitalise on coupons within the McDonalds app, you must first download the app from the relevant store. The app is completely free and is compatible with Android and iOS devices. Once you have downloaded the app, you will need to either register for a new account, or sign in with an existing one.
After logging in, you can find the 'Deals' page from the main hub. Once it has loaded, you will be able to see a complete list of the coupons that are available. You can redeem a coupon by clicking on 'Add to Mobile Order' and then 'Use Deal'. After doing so, you can create your food order, select the restaurant and pay through the app.
McDonalds Menu Meal Deals.
Another way to benefit from deals in McDonalds restaurants is to capitalise on the special offers that are built into the menu. The following McDonalds specials are available without requiring coupons, or special promotional codes. Instead, all you will need to do is place the relevant order within a participating restaurant.
$1-$2-$3 Dollar Menu – Available all year, this is a value menu, which offers $1 any size soft drinks and $2 small McCafé drinks. Additional menu items for $1, $2 or $3 are also available, but these items vary depending on the location. It is common for the $1 options to include cheeseburgers and the $3 options to include triple cheeseburgers.
Happy Meal Deal– Often included within the $3 menu, the Happy Meal is aimed at children and provides a combination of either a hamburger or chicken nuggets with fries, a drink, a choice of side, and a toy.
Senior Discount – Customers who are 55+ are entitled to a discount on soft drinks or coffee from the McCafé menu. This offer is not available at all locations, so you should ask before ordering.
2 for $4 Breakfast– Any two breakfast sandwiches for $4, with the choices being the Sausage McMuffin with Egg, the Bacon, Egg & Cheese Biscuit, or the Bacon, Egg & Cheese McGriddle. Availability varies from location to location.
Buy One, Get One Free – At times during the year, McDonalds offers a 'buy one, get one free' deal, or a similar alternative, such as 'buy one, get one for $1'. This will usually apply to the same menu items as the aforementioned 2 for $5 Mix & Match deal, meaning the choice will include Chicken McNuggets, Quarter Pounders and Big Macs.
When active, these deals are available in the majority of McDonalds locations, with some operating on a nationwide basis. However, restaurants may have the ability to opt out of some deals and certain offers may only be available via the McDonalds app. The best option is to ask a member of staff if the offer is available prior to ordering.
It should also be noted that the McDonalds menu can vary substantially in different parts of the world. Some of the items listed above are exclusive to the United States and will not be available elsewhere. However, most countries will have their own special menu deals and while the options vary, the process for ordering them remains the same.
McDonalds 2 for 5$ Deal.
McDonalds 2 for 5$ Deal – Mix & Match – From time-to-time, McDonalds offers customers the opportunity to buy two menu items for $5, with the options including the Big Mac, 10-piece Chicken McNuggets and the Quarter Pounder with Cheese.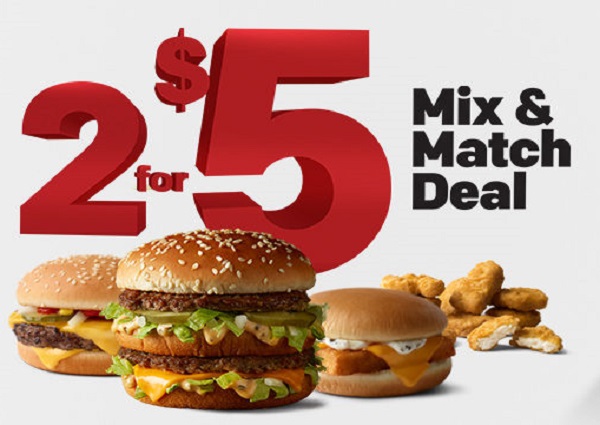 50-Piece Chicken McNuggets Deal.
On rare occasions, for a limited time period, McDonalds restaurants offer a substantial discount on the largest available chicken McNuggets option, providing a box of 50 McNuggets for $9.99. Variations of this deal have also existed, including 50 McNuggets for $10.99 via the McDonalds app, or 40 McNuggets for $9.99.
The various McNuggets deals provide excellent value and the 40 or 50-piece options are ideal for sharing.
The McCafé Drinks Special Offer.
Finally, the McCafé selection includes everything from latte and cappuccino, through to iced tea, hot chocolate and fruit smoothies. The good news is, there are often special offers associated with the McCafé menu, with the most common option being a deal where you get a free McCafé drink for purchasing five drinks of any size from the same menu.
This can be an ideal special offer for customers who are visiting McDonalds restaurants in a large group.
Some of the other offers related to the McCafé selection are more region-specific, so it is worth checking out what special offers or discounts may be available at the McDonalds restaurant closest to you.