McDonalds WIFI.
Thousands of McDonalds restaurants are now equipped to offer free WiFi, allowing customers to access the internet on their smartphones, tablets or laptop computers.
Below, you will find some of the most frequently asked questions about the service, along with information on how customers can actually connect to these hotspots.
McDonalds WIFI Login.
How Can I Connect to McDonalds WiFi?
To connect to the free WiFi in a McDonalds restaurant, you will need to be within WiFi range and have a smartphone or other internet-enabled device with you. From there, all you need to do is go to your WiFi settings, select the McDonalds network, and then agree to the terms and conditions by clicking 'Accept'.
If your device is set to automatically connect to public WiFi networks, you may see the terms and conditions pop up without navigating to your WiFi settings first. Simply click the McDonalds WiFi connect button to continue.
All McDonalds restaurants offer free WIFI for customers, and connecting to the free WIFI is usually straight-forward:
How do I connect to McDonalds free WIFI? – Step-By-Step.
Open your WIFI connections – Connect your mobile phone or laptop to the "Wayport_Access" network.
Open an internet browser. You will automatically be taken to the new McDonald's welcome page.
Click on "Free Connection."
Check the McDonalds WIFI Terms of Service check box, then click on the "Continue" button.
McDonald's Wi-Fi will then welcome you to Free Internet, on the next page.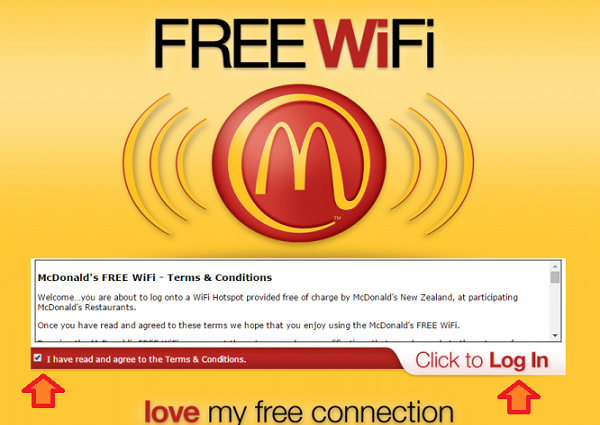 Who Provides the WiFi in McDonalds Restaurants?
McDonalds WiFi is currently provided by AT&T, which is a telecommunications company based in Dallas, Texas.
Do I Need McDonalds WiFi Login Credentials?
The McDonalds WiFi login process does not require you to enter special credentials. Simply accept the terms and conditions or click the McDonalds WiFi connect button to gain access to the WiFi hotspot.
Is McDonalds WiFi Fast Enough for My Needs?
Generally, yes. Unfortunately, it is not possible to give an accurate speed assessment, because speeds can vary considerable from one location to another. WiFi speeds will also depend on the amount of bandwidth that is available. It should be noted that the free WiFi is classed as a lower priority than business-related internet functions.
Does Every McDonalds Restaurant Offer Free WiFi?
The vast majority of McDonalds restaurants do now offer free WiFi, but there may be a small number of exceptions. It is also important to note that individual restaurants may have their own policies and some may opt to disable free WiFi, either temporarily or permanently. Nevertheless, this is unusual and most restaurants will offer this service.
Why Can't I Connect to the WiFi in McDonalds?
To connect to the free WiFi, you will need to have an internet-enabled device and be within WiFi range, which often means in the restaurant itself. Check that 'WiFi' is turned on in your device's settings and make sure you have selected the right WiFi network to connect to. You also need to accept the terms and conditions prior to using the service.
If you continue to experience problems, you might want to try using a different web browser, restarting your device, or using a different device entirely, in order to see if that solves the problem.
What is McDonalds WiFi Wayport Access?
McDonalds WiFi Wayport Access is an access point service, offered by Wayport, Inc., which forms part of AT&T Inc. Under the name AT&T Wi-Fi Services, Wayport continues to provide free WiFi hotspots in a number of public places, including airports, retail stores and various other venues, as well as in McDonalds restaurants.
Is it Safe to Use WiFi at McDonalds?
As a basic rule, the WiFi service offered by McDonalds is safe, but as with any other public WiFi service, you will need to take some additional precautions to stay safe online, protect valuable personal information and avoid various other cyber security threats. In particular, it can be useful to remember the following tips:
Whenever possible, try to void entering valuable personal information while using public WiFi. Some examples of the kinds of details you should try to steer clear of providing include credit card information, debit card information and unobscured passwords. You should also avoid sharing or uploading files and try to keep downloads to a minimum, while taking care to only download files from trusted sources.
Try to avoid using your main email address as much as possible. It may be sensible to set up a temporary email address to use while you are connected to the public WiFi hotspot. You should also be especially careful when opening emails from unknown senders. Never follow suspicious links or download any suspicious email attachments.
If you are using websites that require you to enter login credentials or other important information, make sure you have connected to HTTPS version of the website, as this allows for secure and encrypted communication. If the website does not support HTTPS, it is recommended that you avoid using it on a public WiFi network.
Finally, if you can, you should try to use a Virtual Private Network, or VPN. This will allow you to benefit from an added layer of encryption, will grant you anonymity, and will hide personal information from snoopers.
McDonalds Wifi Connection – FAQ.
Frequently asked questions about the Mcdonalds WIFI connection  and login.
Question: Does mcdonald's have free Wifi?
Answer: Yes, In almost all McDonalds restaurants, free wifi is available.
Question: How to connect to mcdonalds wifi?
Answer: Follow the above guide.
Question: Does mcdonald's have free wifi?
Answer: Yes, Wifi is free in mcdonalds.
Question: Is Mcdonalds Wifi safe?
Answer:  Generally Yes, but for maximum security use a VPN and avoid using your credit card details, when on a Public WIFI network.
Question: How do I connect to Free Mcdonalds Wifi?
Answer: Find the McDonalds WIFI in your WIFI connection, click on connect, then open your browser.
Question: How to sign in to Mcdonalds Wifi?
Answer:  Select Free Connection and remember to accept Terms and Conditions.
Question: How to use Mcdonalds Wifi for free?
Answer: Connect as you would normally to a WIFI network. Then open the Welcome page and accept the terms to connect.
Question: How do I get the free McDonalds coupon at for filling out the McDvoice Survey?
Answer: Visit McDVoice and follow the instructions.